Dental Office Signs
This simple, two sided hanging sign is suspended above the door of a dental office located in Downtown Chicago.
It is operated by a coalition of several dentists and is across the street of the Union Station.
The ornate wrought iron bracket was a carry-over from the previous installation. Strata provides the necessary hooks and chain link for hanging the panel at no extra charge. To avoid searching for the right bracket, Strata can procure the correct bracket for its customers at extra cost . You"ll get the right bracket for the right cost.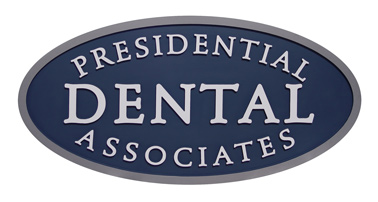 Dental Office Signs
Presidential Dental
4' x 2-1/2", routed HDU
Call us at 1-312-685-7446
7 Days a week 9 am - 8pm
or email us at exteriorsigns@gmail.com