Dimensional Wood Signs
Here again, these smaller wall mounted signs are "Ganged Up" on a single panel to meet our minimum size requirement. The small store front office located in Dallas, TX has a front and rear entrance with parking area necessitating two signs. The firm specializes in securing low cost fares for business clients only.
Strata normally recommends the use of HDU in the hot South Western U.S., in this ace however, these wall mounted entry signs were placed not in direct sunlight. Our flush-mount metal clips attached to sign back greatly facilitate installation.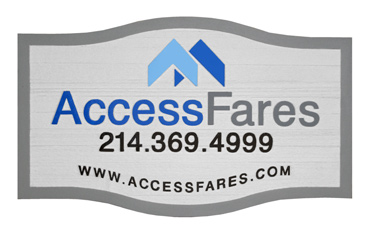 Dimensional Wood Signs
Access Fares
2 signs, 30" x 18", sandblasted cedar
Call us at 1-312-685-7446
7 Days a week 9 am - 8pm
or email us at exteriorsigns@gmail.com