Exterior Building Signs
With the current "Gloom & Doom" in the housing market, it's more important than ever to be noticed. This simple and bold statement is a proclamation that this customer is here for the long run. Elegant gold metallic text against a black stained cedar background effectively brings the sign to the forefront.
Size is important! Even though there was limited space for a wall mounted sign of this size, it was decided to extend the bottom portion of the unit above the windows for a grander presentation. All Strata signs offer maintenance free longevity with ease of installation.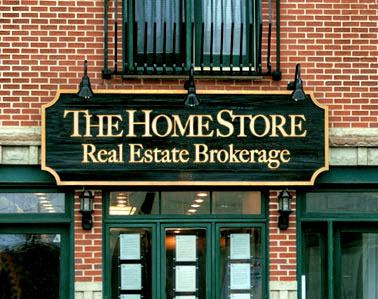 Exterior Building Signs
The Home Store Real Estate Brokerage
8' x 3' Sandblasted Cedar
Call us at 1-312-685-7446
7 Days a week 9 am - 8pm
or email us at exteriorsigns@gmail.com