Decorative Street Signs
A "Baker's Dozen" of these lamp post hanging signs were installed to commemorate the city's sesquicentennial celebration. They were installed throughout the city's downtown area. Special iron brackets were fabricated to hold the signs with a Nineteenth Century look.
The rough cedar background was dark stained to set-off the raised logo. The outside border was left natural cedar and clear sealed to prevent weathering. Ivory paint was employed to the border inline, sub text and outline around the logo. No expense was spared to celebrate this once in a lifetime event.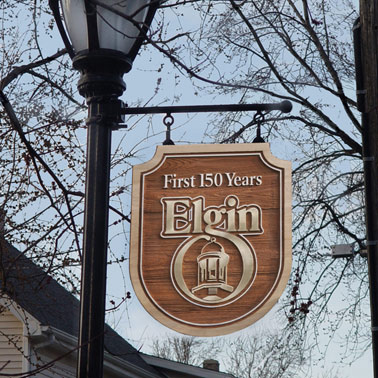 Decorative Street Signs
City of Elgin
30" x 26", double-sided sandblasted cedar
Call us at 1-312-685-7446
7 Days a week 9 am - 8pm
or email us at exteriorsigns@gmail.com