Church and School Signs
Private school sign for a Virginia Christian Learning Center. The logo used was provided by a local design firm. Colors and layout in sign matched to existing artwork. The single sign is mounted to a 5' high brick wall adjacent to the main entrance.
Since HDU is impervious to moisture and heat, signs of this type can be attached flush to the wall using several screws at the top and bottom border. The screw head are recessed into the material and later filled with Bondo Auto Putty using several thin layers. After filler has set, sand smooth and paint using touch-up paint we supply.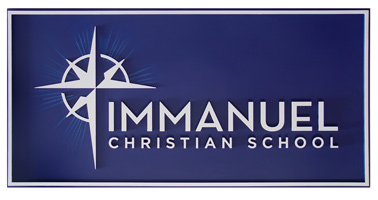 Church and School Signs
Immanuel Christian School
7' x 3', routed HDU


Call us at 1-312-685-7446
7 Days a week 9 am - 8pm
or email us at exteriorsigns@gmail.com