Apartment Building Signs
The eight larger sign panels are companion pieces to the larger entry signs. They denote the address ranges of the homes contained within each of the cull de sacs. The temporary smaller signs in this order are used as Equal Housing symbols at the front of several of the homes and parking restrictions for the sales office.
Here again, the shape and color scheme are coordinated with the larger entry signs. If contemplating a large order involving multiple pieces such as this, production times will be increased.
.
.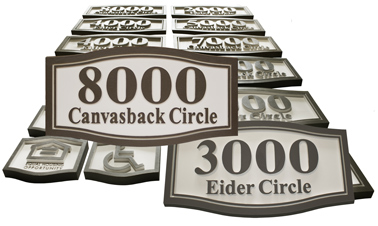 Apartment Building Signs
Meadowbrook Acres Number Plaques
Fourteen Signs, 24"x12", 8"x8", routed HDU
Call us at 1-312-685-7446
7 Days a week 9 am - 8pm
or email us at exteriorsigns@gmail.com