Construction Company Signs
Several variations of this sign were produced for a Northern Illinois builder. Some had the names of some of the high end homes in the development, while some simply stated "Model Home". Two pointed steel rods attached the backs of the signs provided portability and identification for prospective buyers.
The order was comprised of six units grouped on a single sheet of HDU and priced by square foot as a single sign. All of the signs utilized the same outer shape. Different colors and letter styles were used on each of the signs.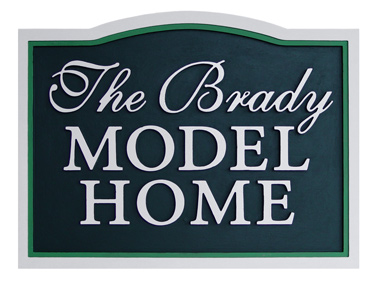 Construction Company Signs
Brady Model Home
24" X 16" routed HDU
Call us at 1-312-685-7446
7 Days a week 9 am - 8pm
or email us at exteriorsigns@gmail.com