Custom Entrance Signs
Shown here is a variation of one of our more popular designs. In addition to its larger size, the free style script in original was replaced with a formal type script. For first time sign buyers, it's a good idea to look through the many categories in our sign gallery on the website. If any of the designs strike your fancy, make a note of it. Relate this information to us to narrow the field and expedite the design process.
This larger version was not to be a hanging sign as in the original. It was adapted to replace a wall mounted sign on an existing stone masonry monument. Most designs in our gallery pages can be re-engineered as hanging signs, wall mounted signs and freestanding signs. Let your imagination fly.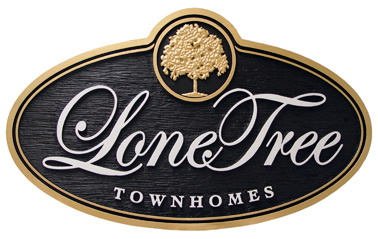 Custom Entrance Signs
Lone Tree Townhomes
6' X 3.5' single-sided HDU
Call us at 1-312-685-7446
7 Days a week 9 am - 8pm
or email us at exteriorsigns@gmail.com