Custom House Numbers
Here again are companion pieces to the two large entry signs. However, these are permanent markers identifying each of the 6 apartment buildings in the complex. The shape of the signs as well as the logo motif from the entry units are carried out in these smaller signs for consistency.
Installation was a simple affair using two 4X4 cedar posts attached to the backs of the signs. Lag screws and washers through the posts into the back of sign held the panel to posts. In addition to the screws, a strip of Gorilla Glue between the post and sign provides for a permanent bond.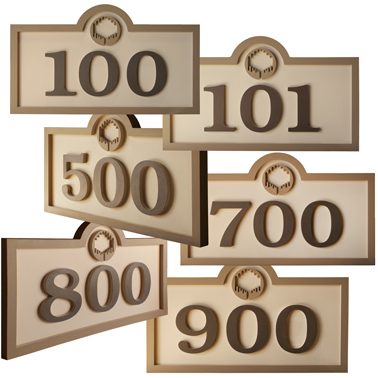 Custom House Numbers
Willow Crossing Building Markers
24" X 16" routed HDU
Call us at 1-312-685-7446
7 Days a week 9 am - 8pm
or email us at exteriorsigns@gmail.com