House Number Plaques
These are companion pieces to the Bell Vue Square housing development entry sign. Building markers lead potential buyers to the various models available within the complex. The developer provides homes from lower cost midrange units to high end luxury homes. A sales office is located near the entrance to the subdivision to inform customers of the many features incorporated within these homes.
These small buildings markers are easily installed in front of each the model homes using 3' X 3' cedar posts at each end of the sign. The bottoms of the posts are embedded in gravel for easy removal when all units are sold.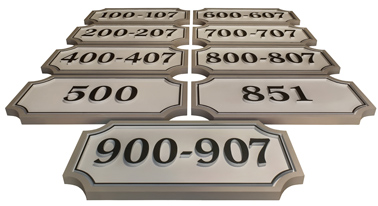 House Number Plaques
Belle Vue Square
24" X 16" routed HDU
Call us at 1-312-685-7446
7 Days a week 9 am - 8pm
or email us at exteriorsigns@gmail.com