Subdivision Entrance Signs
This subdivision entrance sign represents our second order in less than a year from the large home builder Trophy Homes, located in Utah. The community sign incorporated the subdivision logo that was created by a local designer.
A white painted trellis-like construction was prebuilt to hold the sign, which was to be suspended on two cross beams in the center. This gave the installation an open and airy look.
Any community, subdivision, or residential sign that employs extensive construction of wood, metal, stone or brick is considered a monument sign. In some cases, a brick or stone depression will be created to follow the contour of the sign to be attached. You can be assured that Strata will supply you with a unit that will be exact to your specifications.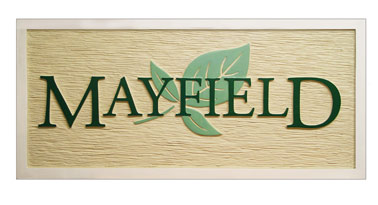 ENLARGE IMAGE
Subdivision Entrance Signs
Mayfield Subdivision
Two single-sided signs
6' X 3' with reinforced backs
Hardware was included in shipment
Call us at 1-312-685-7446
7 Days a week 9 am - 8pm
or email us at exteriorsigns@gmail.com