Hanging Business Sign
Both the title and hanging panel fit onto our 3' X 2' size. These are single faced signs suspended from the eave of a canopy. The small roof section is over the entrance to this office space. Only two of the offices were occupied at the time, additional panels were to be added for new tenants. All hanging hardware is provided with the order.
Sign prices are calculated using total square feet. This offers substantial saving to customers requiring multiple small signs as all of the units are compiled onto a single sheet of stock and priced as a single larger sign. This method is used when pricing address signs, no trespass signs, parking signs, etc.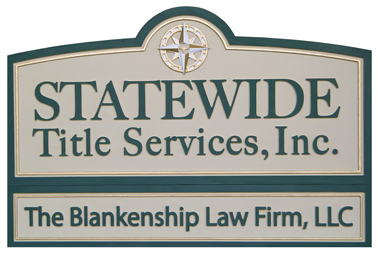 Hanging Business Sign
Statewide Title Law Firm
2 pieces, 3' x 2', routed HDU
Call us at 1-312-685-7446
7 Days a week 9 am - 8pm
or email us at exteriorsigns@gmail.com