Sign Materials
Strata provides either natural wood or composite signs. Cedar or redwood signs are always sandblasted because chipping and warpage can occur in the routing process. Sign quality redwood lumber is limited in supply and requires special ordering. It is also slightly higher in cost. Sign panels for cedar signs are composed of individual boards, laid up side by side and edge glued to achieve the desired panel size. After drying, the surface is sanded smooth.
Wood Signs
There is no denying the beauty of a natural wood sign. Strata makes every effort to insure the long life of your cedar or redwood sign. Wood signs tend to be a bit more expensive than composite signs due to the extra preparation involved. Sandblasting a wooden sign requires the use of a computer generated and cut rubber mask. The mask is adhesive backed. After being applied to the finished sign panel, those areas to be raised, such as text, borders and design elements, will be retained. The areas of sign without the mask will recessed.
The characteristic rough wood grain texture in sandblasted signs is the result of the sand penetrating the softer pulpy material in the wood to a greater degree than the grain lines in the wood, which are more resistant to the sand. Strata recommends the use of wood signs in temperate climate zones only, yielding a service life of 12 to 15 years. Cedar and redwood signs can be painted with solid colors or coated with transparent stains to allow the natural variations in the wood to show.
Mahogany, butternut, cypress and other fine weather resistant woods can also be used for outdoor signs, but at greater cost. Indoor signs can be made of oak, maple, cherry and other hardwoods where weather is not a factor. Sandblasting hard woods can be a lengthy process, also incurring extra cost.
Composite Signs
High Density Urethane (HDU) is the material of choice for all outdoor signs, regardless of climate conditions. HDU is a petroleum based product that is also used in the manufacture of surf boards and ski boards. This material is completely weather proof and is guaranteed by the manufacturer for 10 years against splitting, cracking or warping. After finishing, an HDU sign will last indefinitely and be maintenance-free. HDU has a life expectancy of two to three times that of wood. HDU is also a must for hot arid climates found in the southwest, hot and humid areas of the southern states, tropical or coastal areas of the U.S. Wood signs in these locations will have a reduced life expectancy depending on exposure to the elements.
HDU also features extended paint life. Wood contains resins and other organic compounds that can sometimes push towards the surface as it ages. HDU on the other hand is an inert material, friendly to all types of finishes. Being nearly half the weight of a comparable wood sign, most hanging signs produced by Strata are made of HDU. Large freestanding signs made with this lighter weight material make for easier handling during installation.
HDU is grainless in composition, therefore finer and deeper carving can be achieved. Routed text and images in HDU signs can be deeply cut in multiple layers yielding a truly 3-dimensional look to your sign. For customers who prefer the look of a sandblasted sign, a simulated wood grain can be applied, rendering a sign that is indistinguishable from wood when fully painted.
Beware of sign companies offering cheaper alternatives to HDU as a cost saving device. These materials are sensitive to direct sunlight and hot and cold fluctuations in temperature. They will warp, split and distort after a short period of time.
Gilded Signs and Alternative Materials
With the ever increasing cost of gold in today's market, gilding is an expensive proposition. V-grooved text with gilding and deeply sculpted carvings are CAD programmed in the computer, a time consuming process that can often double the price of your sign. Gold and silver metallic paints can be used at no additional cost with nearly the same effect.
Strata Signs
Chicago Illinois 60622
1-312-685-7446
exteriorsigns@gmail.com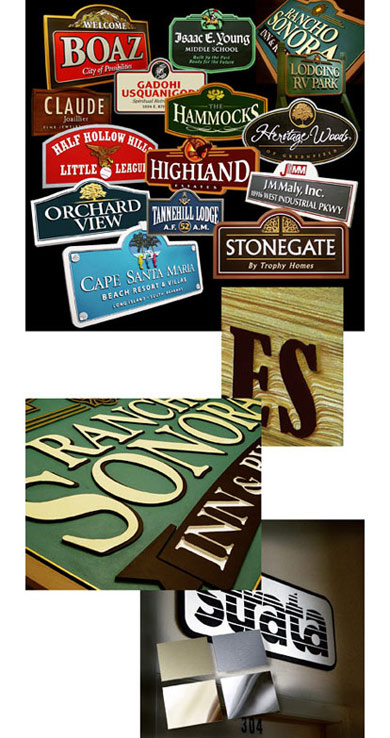 Call us at 1-312-685-7446
7 Days a week 9 am - 8pm
or email us at exteriorsigns@gmail.com

Subdivision Signs, Community Signs, Residential Signs


Business Signs, Commercial Signs,
Retail Signs


City Signs, Monument Signs, Welcome Signs, Street Signs


Hanging Signage, Restaurant Signs, Bar & Lounge Signs


Park Signs, Golf Course Signs, No Trespassing Signs, School Signs