Medical Office Signs
Building, wall mounted direction sign guided patients to the parking area at the rear of the institution. The raised customer logo was faithfully reproduced at the top of sign. Direction text is incised in bottom panel. Matching colors were provided by the customer.
Heavy, slotted metal clips were affixed to back of sign to facilitate installation. A masonry drill is used for the two holes in the brick wall. Lead anchors are then inserted into the holes, into which lag screws are placed. Sign is then simply lowered onto lag screw heads. Several dabs of outdoor adhesive is located at the bottom of unit to prevent unwanted removal. In the rare instance that the sign needs to be removed, a putty knife and hammer will easily break the adhesive bond.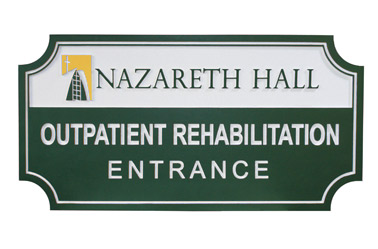 Medical Office Signs
Nazareth Hall
5' x 3' , routed HDU
Call us at 1-312-685-7446
7 Days a week 9 am - 8pm
or email us at exteriorsigns@gmail.com