Office Directory Signs
Part of a large order for resort signs located near Phoenix, Arizona, these directory signs provide important information to both guests and employees in this sprawling establishment. Signs were mounted to free standing posts for designated parking slots for its many employees. Various wall mounted units were placed at many buildings housing offices and utilities.
HDU was chosen for construction due to its resistance to damage from the intense sun and heat experienced in this climate. Slotted steel fence posting facilitated installation for the parking signs. The wall mounted office and utility signs were supplied with all necessary hardware.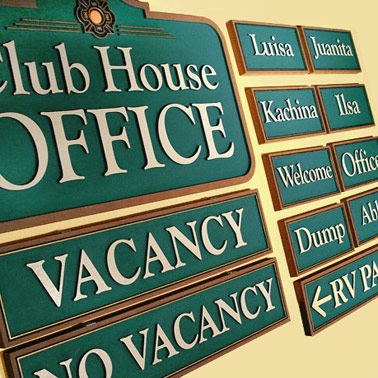 Office Directory Signs
Rancho Sonora Directory Signage
2" thick HDU
Call us at 1-312-685-7446
7 Days a week 9 am - 8pm
or email us at exteriorsigns@gmail.com