Sandblasted Cedar Signs
Several sets of these signs were produced for a mini-mall located in Texas. The small signs are mounted to the wall adjacent to entry door of each shop. Although Strata does not accept single order signs below 3' X 2', we will however accept small multiple order signs of 3 or more. These are then grouped on a single sheet of stock and cut apart after the sandblasting procedure. Price is then calculated as a single sign based on square footage.
Sandblasted wooden signs are a good choice as in this case to capture the old west motif carried throughout this mini-mall. This method of grouping small signs on a single panel is an economical way of producing multiple street signs, traffic signs, no trespassing signs, etc.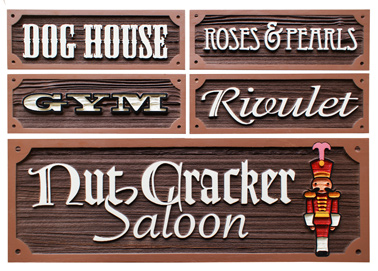 Sandblasted Cedar Signs
Nutcracker Saloon
3' x 1', 18"x8"
Call us at 1-312-685-7446
7 Days a week 9 am - 8pm
or email us at exteriorsigns@gmail.com