Hanging Address Signs
Outdoor hanging sign for a small family-owned winery in the Midwest. The wavy blue lines surrounding the grape cluster signify the winery's location, situated on property crossed by a river.
As a decorative hanging sign, the grape clusters on either side of this hanging sign were deeply carved separately and affixed to the sign surface, thereby imparting a truly 3-dimensional look.
The simple, cantilevered cedar postwork provided ease of installation and a sturdy mounting system. The cedar postwork was sealed to preserve its natural look. Again, all hanging hardware was provided.
A hanging business sign has a lot of drawing power. The deep carving imparts the appearance of quality that is unsurpassed.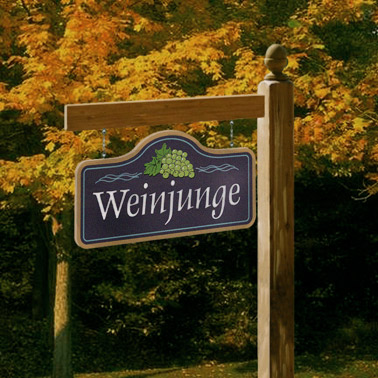 Hanging Address Signs
Weinjunge
36" X 18" Double-sided 3" Thick HDU

Call us at 1-312-685-7446
7 Days a week 9 am - 8pm
or email us at exteriorsigns@gmail.com