Ice Cream Shop Signs
A wall mounted sign was created for a start-up frozen yogurt store in downtown Milwaukee, Wisconsin. The interior of the store was updated with gleaming stainless steel equipment with modernized seating and customer amenities.
The facade of the store was left unchanged. The sign was installed on a brick portion of the overhead with 3 of our flush mount steel clips. Installation took less than an hour.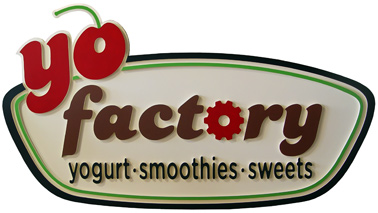 Ice Cream Shop Signs
Yo Factory Yogurt
7' X 3' , routed HDU
Call us at 1-312-685-7446
7 Days a week 9 am - 8pm
or email us at exteriorsigns@gmail.com