Large Hanging Signs
Restaurant signs come in many flavors. If your restaurant has adequate space on the facade, a large wall mounted unit is just the ticket. For those with limited space, a larger double-sided unit mounted to a wrought iron bracket can have the same impact with double the display area.
There is no doubt that a well designed and expertly crafted restaurant sign will project a positive image for your establishment. Dimensional restaurant signs, lounge signs, pizza parlor signs or any other eatery sign imparts confidence in your customers that you offer the finest cuisine available.
The restaurant sign shown was commissioned by a chain of restaurants located on the East Coast. Several of these wall mounted units were installed at various restaurant locations and constructed of 1-1/2" HDU. The color scheme reflected those used on the menus and other promotional material.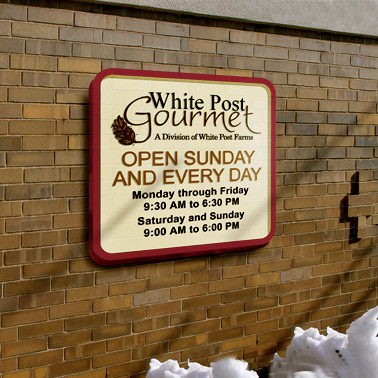 Restaurant Signs
White Post Gourmet
5' X 4' 1-1/2" Thick HDU

Call us at 1-312-685-7446
7 Days a week 9 am - 8pm
or email us at exteriorsigns@gmail.com