Custom Routed Signs
The Chicago Job Corps is an apprenticeship facility dedicated to training underprivileged youth in various trades. Each of the many trades represented is housed in its own building. Many pre-apprenticeship trades are included in the curriculum, from auto mechanics to machine shop training, plumbing and electrical work, etc. These particular classes are sponsored by the Painters & Allied Trades International Union.
Each building has its sign mounted to the front face of the building adjacent to the entrance.
This sign represented the second commission for Strata, the first being ªMaterial Handling and Distribution". Although each sign has an individual design in this complex, the size and placement offer continuity.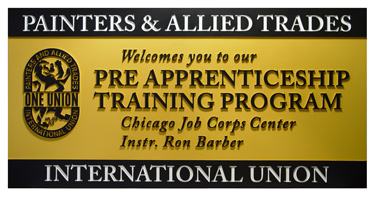 Custom Routed Signs
Painters & Allied Trades
8' x 4', routed HDU


Call us at 1-312-685-7446
7 Days a week 9 am - 8pm
or email us at exteriorsigns@gmail.com