Commercial Development Signs
Three of these directional signs were installed at various locations throughout this subdivision. This eliminated confusion to prospective home buyers in locating the sales center situated amid many winding streets and cul-de-sacs. Smaller directional signs and parking lot signs in multiples can be grouped on larger sheet sizes offering discount prices to customers.
Often times, smaller, removable directional signs can be incorporated in larger entrance signs for medical office complexes and shopping centers. This facilitates changes in occupancy at low cost.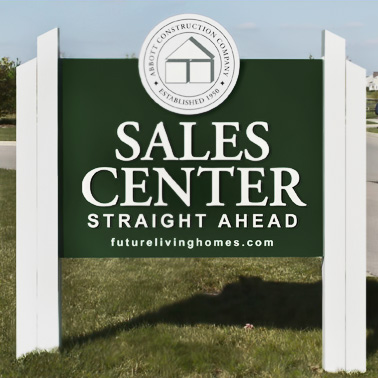 Commercial Development Signs
Abbott Homes
4' x 3', single-sided, routed HDU
Call us at 1-312-685-7446
7 Days a week 9 am - 8pm
or email us at exteriorsigns@gmail.com