Directional Signs
This community located in Upper State New York has a Fall Festival every year. We finished all 6 units in two weeks to have the signs installed in time for the opening.. The forest scene at the top required much time consuming hand carving and painting. We suggest to our customers that if you have a future event where signage is needed, that you order early giving at least a month to complete your needs.
The main sign design with the forest scene at the top was provided by the customer on this project. The smaller marker signs were developed by Strata to be consistent with the entry sign using the same fonts and colors. It is often the case that many customer designs submitted for sign production do not translate well into sign production. Strata will make the necessary modifications and present full-color comps for customer approval.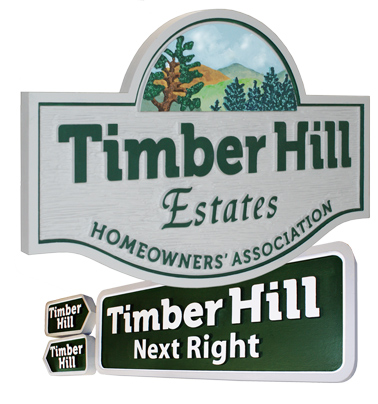 Directional Signs
The Woodlands Subdivision
Two 3' X 2' routed HDU, 20"x16", 18"x12"
Call us at 1-312-685-7446
7 Days a week 9 am - 8pm
or email us at exteriorsigns@gmail.com