Hanging Welcome Sign
Most of our subdivision signs are generally 5' X 3' or larger. In this case, the customer wanted a small, simple and unobtrusive sign for their high end community which contained only a few homes on acre lots.
Signs such as this can be used effectively where installation is near the entrance to the subdivision. This sign was positioned opposite a life sized sculpture of two children reading books and seated on a park bench. The sign is affixed to a small red brick monument.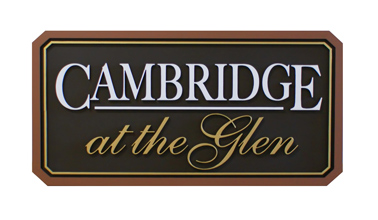 Hanging Welcome Sign
Cambridge at the Glen
4' X 2' routed HDU
Call us at 1-312-685-7446
7 Days a week 9 am - 8pm
or email us at exteriorsigns@gmail.com