Monument Sign Design
Northern Illinois is the location of this free-standing entry sign. The subdivision is surrounded by flat farmland which generates high wind conditions. We complied with the customer's wishes to employ extra reinforcement to the back of the sign for wind proofing.
The simple muti-level grass carving in the arch at top was suggested by the customer. The design process was greatly expedited by the customer who scanned the web gallery. Selecting several design queues from a few of our examples in the gallery, we were able to incorporate these hints into the final design.
.
.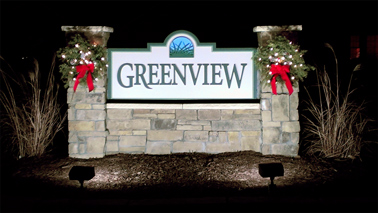 Monument Sign Design
Greenview
6' x 3' routed HDU
Call us at 1-312-685-7446
7 Days a week 9 am - 8pm
or email us at exteriorsigns@gmail.com