Outdoor Welcome Signs
This sign was made for an existing subdivision outside of Vancouver, B.C. The original sign was poorly designed and in a sad state of repair. The sign dimensions were actually a bit under 8' wide to fit into usable existing 6X6 cedar posts. Extra dark green paint was supplied to the customer to correlate the sign background color. Flat galvanized plates at each end were included to facilitate installation.
Customers outside the continental U.S. should be aware that all shipping costs, import duties, tariffs etc. is the sole responsibility of the customer. These costs have to be obtained from the government agency that collects these fees and can often be found on the Internet.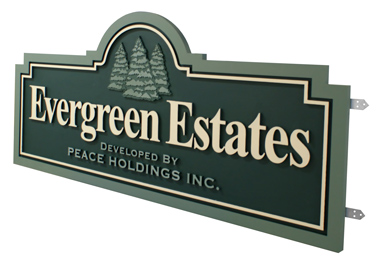 Outdoor Welcome Signs
Evergreen Estates Subdivision
8' X 3' one-sided routed HDU
Call us at 1-312-685-7446
7 Days a week 9 am - 8pm
or email us at exteriorsigns@gmail.com