Outdoor Wooden Signs
Sandblasted cedar is a traditional outdoor sign material. The variations in wood tone, with a rough textured background, provides a rustic appearance that is fitting for any application.
Four smaller oval signs were placed at various locations within this Northwest suburb of Chicago. Two cedar 4X4s in the back of each sign are used for installation. Multiple signs in this instance are used as direction and locations signs as there are several other developments that run seamlessly together.
.
.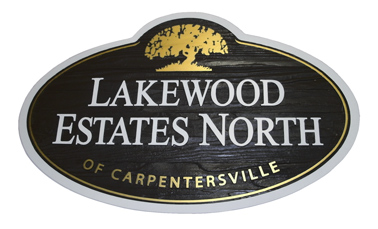 Outdoor Wooden Signs
Lakewood Estates North Subdivision
Four Signs, 48"x32" sandblasted cedar
Call us at 1-312-685-7446
7 Days a week 9 am - 8pm
or email us at exteriorsigns@gmail.com