Personalized Outdoor Signs
These three signs were produced for a small community located in Michigan along the Lake Michigan shoreline. The subdivision is a mix of recreational and permanent residence homes. The main characteristic of this community is the use of white picket fences around each of the homes. The two larger signs are attached to a section of the fencing at the entry points. The smaller duplicate sign is attached to a white picket gate.
The turtles were carved and painted separately in four layers adding depth between carving and background. Simultaneously carving and painting the three turtle figures also insured consistency.
.
.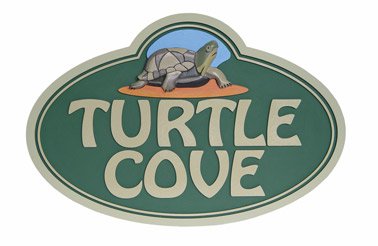 Personalized Outdoor Signs
Turtle Cove Subdivision
3 Signs, 36" x 24" hand carved & routed HDU
Call us at 1-312-685-7446
7 Days a week 9 am - 8pm
or email us at exteriorsigns@gmail.com