Business Advertising Signs
This business advertising sign greeted guests to the exclusive Cape Santa Maria Bahamas resort. With the hotel situated close to the superb white sand beach area, this business sign had to withstand the sometimes high winds and ocean salt spray.
A cinder block structure was erected adjacent to the main entrance for the support system of the monument sign. This type of masonry is inexpensive and offers a great deal of design potential. The structure incorporated an arched, indented center panel that conformed to the curved top of the sign. Each side was then triple layered to the framework, thus providing a stable platform for the sign when high winds were present. Off-white stucco was then applied to the structure to echo the hotel's outside walls.
The welcome monument sign's design used many elements from the resort's website and promotional material, including the beach scene with the cabana and palm trees. The tricolor seahorses from the company logo were reimagined to add dimensionality.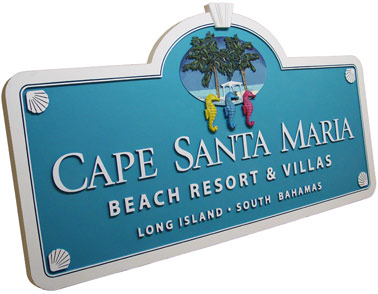 Business Advertising Signs
Cape Santa Maria
10' x 5' , 1-1/2" thick HDU
Call us at 1-312-685-7446
7 Days a week 9 am - 8pm
or email us at exteriorsigns@gmail.com