Business & Commercial Signs
This medical office sign for Ravenswood Chiropractic & Wellness Center offered a challenge to Strata and the client. Although the facility is located at a busy intersection, the building itself presented limited display area.
The solution was to feature the center's logo, along with large, highly visible text below a series of low hanging windows. An office building sign such as this would normally be directly affixed to the wall, however, the building owner stipulated that no office signage be permanently attached to the structure.
The business sign was mounted to 4 cedar posts and installed as a freestanding unit at the wall face. Outdoor office signs, such as this, are easily removed and installed at a new location if necessary.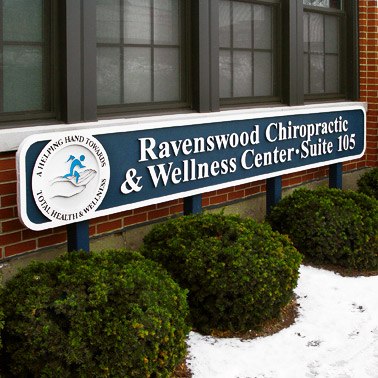 Business Commercial Signs
Ravenswood Chiropractic Center
12' X 22" , 1-1/2" thick HDU
Call us at 1-312-685-7446
7 Days a week 9 am - 8pm
or email us at exteriorsigns@gmail.com