Custom Business Signs
Business sign replacement for an East Coast haberdasher featured deeply routed and gilded main text. The purple background further enhanced the gold leaf title and truly made this business sign "pop".
Use of traditional type styles imparted elegance and professionalism. As a business sign maker, Strata follows the design principles of keeping the message simple with all elements well-balanced and avoiding gimmicks. After all, your business sign will become an important part of your professional life for many years to come.
Exterior business signs that are well designed and executed "put your best face forward," giving your current and potential customers the confidence that you can deliver their expectations.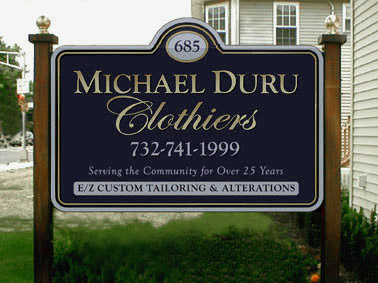 Custom Business Signs
Michael Duru Clothiers
7' X 4' double-sided with gold leaf
Call us at 1-312-685-7446
7 Days a week 9 am - 8pm
or email us at exteriorsigns@gmail.com