Custom Business Signs
This double-sided, solid mahogany business sign was supplied with the appropriate wrought iron bracket to facilitate installation. This high end jewelry store is located on Santa Monica Blvd. in Southern California.
Matched color staining on this hanging business sign was a reflection of the store's interior mahogany paneling and jewelry cases.
The custom business sign offered an ideal solution for the retailer. Having a narrow store front, the choice of a hanging business sign offered high visibility at any angle, thereby attracting customers, while not detracting from the store's window display.
Strata can help in determining the proper business sign for your operation. All it takes is a brief description of your location. Our team will make a careful assessment of your needs and recommend a business sign that will be an important part of your marketing arsenal.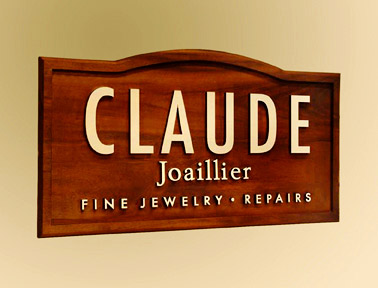 Custom Business Signs
Claude Joaillier
42" X 24" double-sided solid mahogany
construction with included wrought iron bracket
Call us at 1-312-685-7446
7 Days a week 9 am - 8pm
or email us at exteriorsigns@gmail.com