Hanging Business Signs
This small hotel is located in a very old section of Philadelphia. Many of these old buildings date back to the pre-revolutionary war era. The owners wanted an unobtrusive hanging sign that would provide identity without detracting from these fine old buildings located in this area.
In this case, the wrought iron bracket was supplied along with the necessary chain links and eye bolts for a ready to hang installation. The hotel logo was emailed to us and incorporated in the design. Customers wishing to include a company logo should provide vector artwork (line work) to Strata for accuracy. However, we can convert bit mapped images to line work when necessary.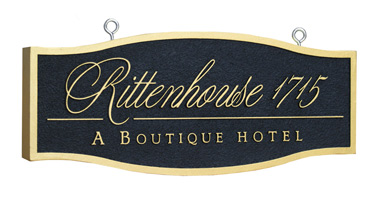 Hanging Business Signs
Rittenhouse Boutique Hotel
2' x 1' Double-Sided Sandblasted HDU
Call us at 1-312-685-7446
7 Days a week 9 am - 8pm
or email us at exteriorsigns@gmail.com