Hotel Directional Signs
16 directional signs were ordered for a resort hotel located in South Florida. 6 of the larger units were 2" thick HDU. These were to be freestanding signs mounted to 3" square white anodized aluminum posts. The white paint used in the signs was carefully matched to the posts. The remaining 10 directional signs were wall mounted to the various buildings within the compound. 1-1/2" thick HDU was used here to reduce the offset.
These direction signs are indispensable in a facility such as this which features a hotel with private rooms as well as oceanside cabins. Included in the fully staffed amenities contained in the resort is an 18 hole golf course, four tennis courts, a health and fitness center, etc. Direction signs provide a highly visible guide to guests and avoid confusion.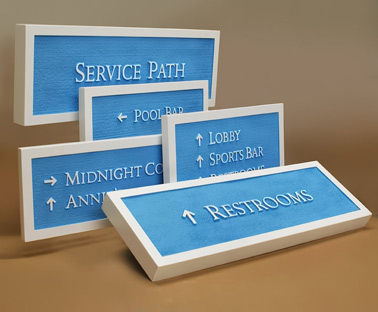 Hotel Directional Signs
Hotel Signs
Sandblasted HDU, various sizes and thicknesses
Call us at 1-312-685-7446
7 Days a week 9 am - 8pm
or email us at exteriorsigns@gmail.com