Hanging Office Signs
This over-the-door two sided hanging sign was made to hang below the eave of a porch roof. Two sets of four pieces were made from a single panel of HDU then assemble using chain link. Routed double sided hanging signs require the use of the four separate panels because matching the two sides is nearly impossible. The individual sections are glued back to back after being cut and trimmed using either epoxy or urethane glue, never to delaminate.
Strata will accept signs of 3' X 2' or smaller, but the price remains the same, this is because a small sign often requires additional painting time to achieve the desired results. Multiple signs in an order for single faced or double sided street signs or marker signs will be grouped on a larger panel, then routed or sandblasted as needed, then cut apart, this solution reduces the cost to the customer as the entire assemblage is treated as a single larger sign and priced accordingly.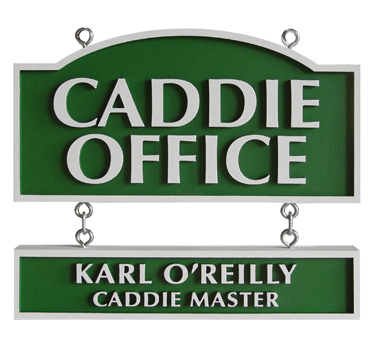 Hanging Office Signs
Caddie Office
3' x 2-1/2', routed HDU, double-sided
Call us at 1-312-685-7446
7 Days a week 9 am - 8pm
or email us at exteriorsigns@gmail.com