Hanging Retail Signs
Picturesque vacation spot located on the atlantic sea coast required a small town entry sign. A larger sign was not needed as a two lane roadway ran along the coast into the town. Turquoise blue was chosen as the background color to complement the sunny beach area.
Customers should bear in mind that all quotations given reflect full one square foot dimensions. The customer for this sign was given the option of a larger 4' X 2' unit at the same price. However, since this was a replacement sign to the dimensions given, the customer chose the earlier sign dimensions.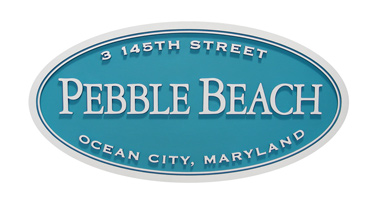 Hanging Retail Signs
Pebble Beach
42" x 21", routed HDU
Call us at 1-312-685-7446
7 Days a week 9 am - 8pm
or email us at exteriorsigns@gmail.com