Professional Business Signs
A Northwestern U.S. family owned electric service and supply company wished to have its company mascot depicted on their sign. The "Perky" cartoon character, an assemblage of various electrical components is used by the company in advertising and print media. Strata re-imagined the character with deep carving for a more vivid depiction. The figure is further emphasized by use of a pale yellow, wood grained background. Corporate colors were used as indicated by the customer.
Hanging signs such as this can be quite heavy. Strata recommends the use of HDU which is nearly half the weight of a comparable sandblasted cedar sign. Upon completion of your hanging sign, eye screws are attached and chain link provided for a hassle free installation. The appropriate wrought iron bracket can be supplied at additional cost if the customer wishes.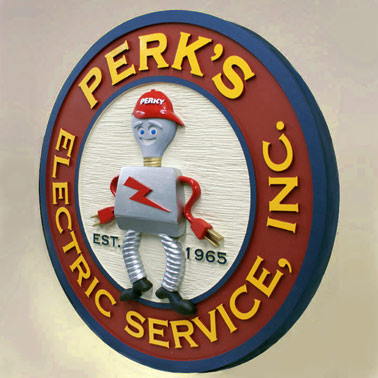 Professional Business Signs
Perk's Electric Service
4'x4' double-sided HDU
Call us at 1-312-685-7446
7 Days a week 9 am - 8pm
or email us at exteriorsigns@gmail.com