Wooden Business Signs
Business sign replacement for a Texas Industrial Park. The owner indicated that the original was a substandard wood sign and lasted only a few years. Strata recommended HDU for this south Texas location with its inherent high heat and humidity. The sign buyer also indicated that our quoted price was much lower than that of the original unit.
The business entrance sign was mounted to the existing square steel posts. We added a 1/2" MDF laminate to the back of the sign for added rigidity and to provide a solid base for mounting hardware.
This business sign incorporated the company logo incised into the extended border at top, with the main text raised in the main body of the sign. Company colors were specified by the customer.
Sign buyers are urged by Strata to consider factors other than price point alone when ordering either a wood or composite sign. The proper substrate is of paramount importance. Hot, humid climates demand the use of HDU. Secondly, two coats of proprietary primer must be used to seal your sign and ensure extended paint life. The third consideration is the use of quality cedar lumber to reinforce the sign back and provide stable fixing points for installation.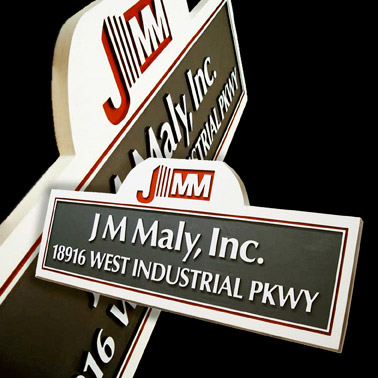 Wooden Business Signs
J M Maly, Inc
6' X 3' , 1-1/2" thick HDU
Call us at 1-312-685-7446
7 Days a week 9 am - 8pm
or email us at exteriorsigns@gmail.com