Wood Business Signs
Office signs for law firms tend to be text heavy. Hey, lawyers love words. Although content heavy, a proper balance can be achieved with the correct style and sizes used in the text.
Exterior business signs for professionals will offer instant recognition and a good deal of information. This single sided, wall mounted, custom business sign for a southern law office is mounted adjacent to the front door of the building.
Signs for offices located in multi-unit buildings can be configured to have a separate, larger sign at the top designating the building name or main tenant. Below the main unit will be chain linked sign panels listing the various other tenants in the building. As vacancies occur, the panels can be easily replaced.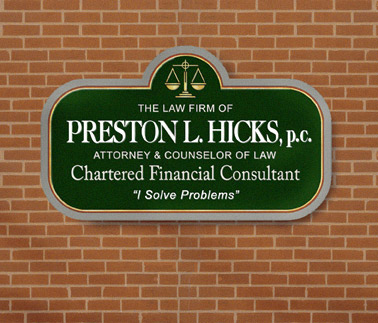 Wood Business Signs
Preston L. Hicks Law Firm
40" X 22" with reinforced back
Hanging hardware included
Call us at 1-312-685-7446
7 Days a week 9 am - 8pm
or email us at exteriorsigns@gmail.com