Custom Church Signs
Church signs can have a positive impact on your congregation. A custom sign will not only identify you to the community, but also instill a sense of belonging and pride in the church goer. Signs that are well designed embellish the surroundings and encourage service attendance. Though small in size, this unobtrusive yet highly visible church sign was strategically placed at the busy intersection leading into the site.
Church signs are available in many configurations. A popular choice is that of a framed hanging unit that features removable and changeable hanging panels below the main unit. These panels can list times of services as well as other pertinent information. Strata can provide new panels as the need arises at reasonable cost.
Consultation in regards to the type of outdoor church sign you need, as well as quotations are given free of charge. The sign shown in the photo was constructed of HDU to ensure long-life and maintenance free service.
Design services are also provided at no charge to serious sign buyers. Full color comprehensive drawings are submitted for approval. This allows you to know exactly what you're getting before the order is processed.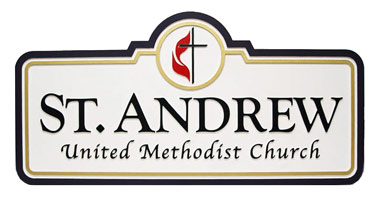 Enlarge Image
Custom Church Signs
St. Andrew United Methodist Church
5' x 3' , 2" thick HDU

Call us at 1-312-685-7446
7 Days a week 9 am - 8pm
or email us at exteriorsigns@gmail.com