City entrance signs
Residential sign for a family estate in Texas. The source of pride was the family owned Ford dealership in their town which began selling Model "T" fords in the early 1900s. The depiction of the deeply carved auto was to be the main feature in this residential sign.
The red brick, prebuilt structure to house the estate sign echoed the construction of the home itself, which is situated on several acres outside of town. Although rather small in size, this residential sign is actually a monument sign because of the brickwork support system.
With its muted green background color, which complements the red brick, to its incised ivory colored text and curvilinear cutout border to offset the rigid lines of the brickwork, the solution was "Just what the dealer ordered."
Residential signs by Strata are not just name plaques. They are reflections in pride of ownership. Residential signs need not be this ambitious. They can be smaller double sided units suspended from simple cantilevered postwork along the roadside, or smaller freestanding units effectively setting your property apart from its surroundings.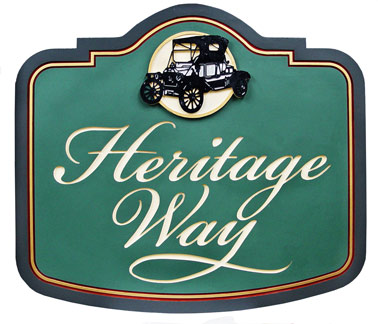 City Entrance Signs
Heritage Way
5' X 4' , 1-1/2" thick HDU mounted to prebuilt
masonry construction
Call us at 1-312-685-7446
7 Days a week 9 am - 8pm
or email us at exteriorsigns@gmail.com