Architectural signs
The architectural sign for Cape Santa Maria Resort was mounted to an extension to the main facade. This extension was built of cement blocks and stuccoed to reflect the surface treatment of the building surface (not shown in photo).
Architectural signs are usually designed and constructed to enhance and become an important part of the edifice itself. They come in many variations. Outdoor architectural signs can be affixed directly to the building, or as separate units close in proximity to the main structure. The point being is that the sign complements the building as a unified whole.
Whether you need a resort sign, restaurant sign, corporate sign, or any commercial sign for that matter, a custom designed, deeply dimensional, fully integrated architectural sign will definitely augment the look of your establishment as well as your bottom line.
If you feel this type of business sign is right for you, send a few photos of your building along with pertinent dimensions. Strata designers will furnish you with a custom installation that will blend perfectly with your building's architecture.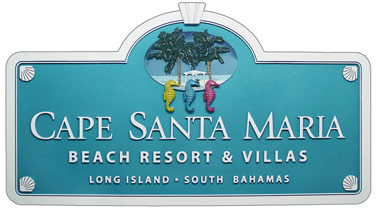 Architectural Signs
Cape Santa Maria
10' x 5' , 1-1/2" thick HDU
Call us at 1-312-685-7446
7 Days a week 9 am - 8pm
or email us at exteriorsigns@gmail.com