Bar and Grille Signs
Pigeon Mountain Grill is a companion piece to the earlier Pigeon Mountain Country Store sign. The Grill is situated at a different location nearby and consists of a restaurant and novelty shop. Because the two establishments are located in different locations, it was important to have similarities in the two signs. These family owned venues are operated by well respected members of their community, therefor, similar elements and colors were used in both units.
To ensure stability in such a large sign, an internal structure was incorporated using wood bracing spanning the width and depth between the two panels as well as support for the hanging components. Local carpenters were used to construct the timber sign surround.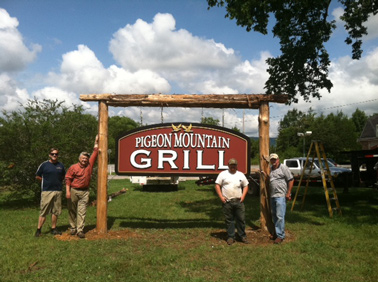 Bar and Grille Signs
Pigeon Mountain Grill
10' X 4' , Routed HDU, double-sided
Call us at 1-312-685-7446
7 Days a week 9 am - 8pm
or email us at exteriorsigns@gmail.com