Custom Made Signs
Restricted area signs are needed to prevent non-residents from using recreational facilities available only to residents in certain communities. The Crescent Lake Club subdivision and community offered its homeowners tennis courts, boat docks and other amenities.
No trespassing signs can also include other pertinent information for resident's use such as hours of use, no fishing, no swimming and other restrictions.
HDU was the material of choice for this location where high heat and humidity are the norm. HDU is stable under any climate condition.
The signage features a flat black background with raised text and border painted in metallic gold.
No trespassing signs in smaller versions can be ordered for multiple installations. Strata offers quantity discounts for multiple orders regardless of text changes.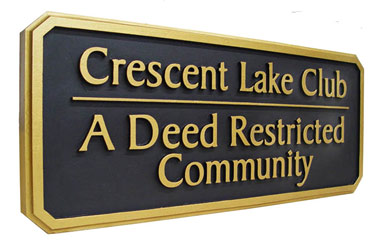 Custom Made Signs
Crescent Lake Club
46" X 20" single-sided 2" thick HDU with
fully reinforced backing

Call us at 1-312-685-7446
7 Days a week 9 am - 8pm
or email us at exteriorsigns@gmail.com