Park Entrance Signs
This northern Illinois private club required a smaller golf course sign at the entry road. Since the club is members only, this golf course sign was merely a subtle entry marker for its golfers. The logo was rendered in metallic gold and silver paint with a metallic gold inline around its border.
Golf course entry signs like this double-sided unit are easily installed in usually less than an hour. The cross piece is mortised into the cedar upright to provide for hanging the sign. Strata supplies all the appropriate hardware to facilitate installation.
Larger golf course signs are recommended for public or semi-private clubs. These signs are advertising vehicles, as well as entry signs, usually freestanding units in single or double-sided variations.
Strata is committed to providing you with the appropriate golf course sign for your establishment.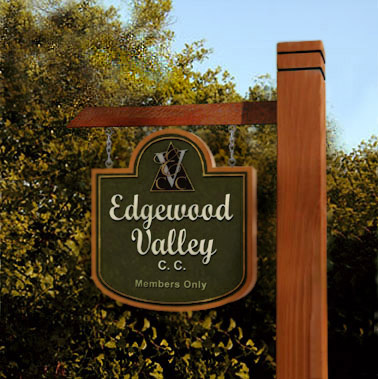 Park Entrance Signs
Edgewood Valley
36" X 40" Double sided 3" thick HDU


Call us at 1-312-685-7446
7 Days a week 9 am - 8pm
or email us at exteriorsigns@gmail.com