No Trespassing Signs
After much deliberation, this customer decided to go with our initial design. Destined for a condominium in the Bay Area overlooking the Golden Gate Bridge, the parking lot was routinely used by nearby residents who were not permitted to do so. This no trespassing sign informed non-residents that their cars would be towed at their expense.
Extra coats of paint on this cedar sign will enable this sign to look attractive after many years of service. If you are in need of a no trespassing sign, it is important to keep the text at a minimum if possible. A wordy sign in this size will diminish the effectiveness of your no trespassing sign. Use a larger sign if budget permits.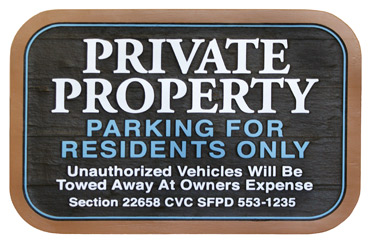 No Trespassing Signs
Parking & Residential Signage
3' X 2' Sandblasted cedar


Call us at 1-312-685-7446
7 Days a week 9 am - 8pm
or email us at exteriorsigns@gmail.com