No Trespassing Sewer Signs
Part of a multi-order subdivision sign contract. This sign is mounted to the wall of a small brick building housing a private sewage control facility. Two coats of primer and three finish coats insure long paint life. Small signs like this are easily attached to any wall surface by the use of an outdoor adhesive. Spotting four small dabs of adhesive across the back of the sign will do the trick.
In the event that the sign has to be removed in the future, the use of a putty knife and hammer with gentile taps will do the job without damaging the sign.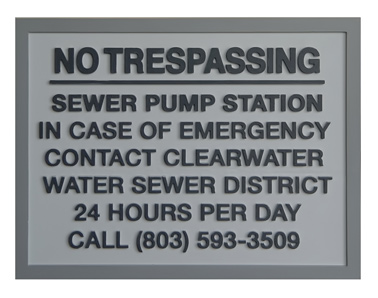 No Trespassing Sewer Signs
Trespass Signage
24" x 18", routed HDU


Call us at 1-312-685-7446
7 Days a week 9 am - 8pm
or email us at exteriorsigns@gmail.com