Private Community Signs
No soliciting and identity sign is posted at the entrance of this gated community. The elegant and unobtrusive black and metallic colors reflect the high-end homes within the complex.
The sign is installed on a section of wrought iron fencing surrounding the community. This is easily done with electrical conduit clips that come in many sizes to hold the sign onto the vertical rungs of the fence. The clips are then painted black to afford a virtually invisible mounting system.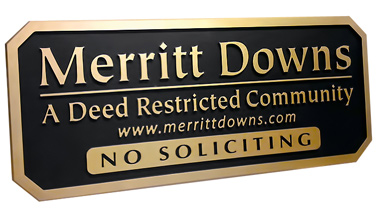 Private Community Signs
Merritt Downs
4' x 1-1/2", routed HDU


Call us at 1-312-685-7446
7 Days a week 9 am - 8pm
or email us at exteriorsigns@gmail.com