Private Driveway Signs
This development is an ongoing project. Initially comprised of four cull de sacs situated on a winding roadway. Each of the cull de sacs contained six residences. The signs at the various sites provided the addresses of the residences in each plot. This eliminated the confusion of visitors searching for their destination.
The signs are permanently mounted at each entrance to a single center post. As stated earlier, all four signs were quoted as a single sign. As larger signs are priced at a lower price per foot, this considerably reduced cost.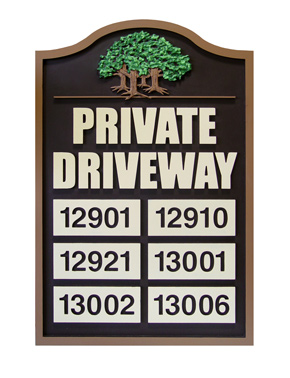 Private Driveway Signs
Address Numbers
4 signs, 3' x 2', routed HDU


Call us at 1-312-685-7446
7 Days a week 9 am - 8pm
or email us at exteriorsigns@gmail.com