Development Entrance Signs
Monument signs encompassed within massive brick work make for a very impressive display. The family estate required an entry sign featuring a Model "T" Ford, prominently displayed on sign face.
The present owner's Ford dealership in a nearby Texas town was founded by his great grandfather in the early 1900's. The Model "T" was the first auto sold.
The design of this monument sign was a result of close collaboration between Strata and the client, who was very specific in his requirements.
All monument signs are slightly offset from the wall surface to allow some "breathing space" between the wall and back of sign for any moisture to dissipate. The inert nature of HDU offers excellent adhesion to the four finish coats applied. This, along with the heavily reinforced cedar backs ensures decades of service life.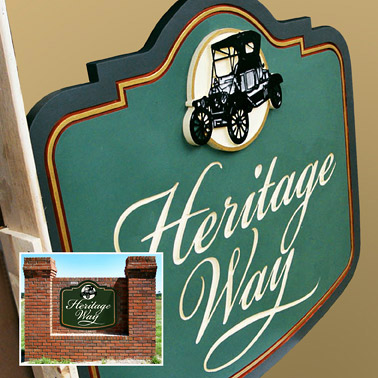 Enlarge Image
Monument Entrance Signs
Heritage Way
5' X 4' thick HDU mounted to prebuilt
masonry construction
Call us at 1-312-685-7446
7 Days a week 9 am - 8pm
or email us at exteriorsigns@gmail.com