Entrance Sign Design
Two oval signs worked particularly well when attached to brown brick, pre-constructed monuments. The two installations are positioned at the entry ways of this townhouse complex adjacent to the roadway.
This client is involved in many upscale developments including single family homes, condominium and apartment complexes in the South East. Imposing and elegant monuments with the appropriate signage will enhance the properties within any building complex. This results in increased traffic of potential buyers.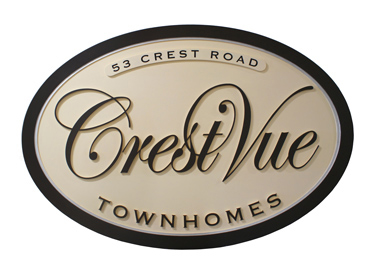 Entrance Sign Design
Crest Vue Townhomes
6' X 4' routed HDU
Call us at 1-312-685-7446
7 Days a week 9 am - 8pm
or email us at exteriorsigns@gmail.com